We heard rumor that Galapagos Islands has mountain biking, so when we found a bike shop renting bikes, we were all ready to go exploring. One problem being, they didn't seem to rent helmets. Now, I know that in the 80s we all rode our bikes without helmets. When my mom bought me a helmet and insisted I wear it, I did for a bit, and then I would hang it off my handle bars and ride without. (Sorry mom.) But, ever since I started seriously mountain biking, I always wear a helmet. I am a helmet enthusiast, and I consider my noggin to be an important piece of machinery. Standing in the bike shop, Andrew and I were both too smitten with the idea of a ride to put the brakes on, so off we went.
Unfortunately, trail riding wasn't the plan. Instead, the plan was for a taxi to drive us to the Highlands, where we could explore then ride back down to town on the road. Road riding without a helmet? Even worse. But, we stayed the course. I mean really, I just sailed 1900+ miles from Cabo San Lucas to here, and I even survived the Bahia Tortougas Death Warf. This can't possibly be as dangerous, can it?
We hop in the taxi and make friends with the driver, Roger. He needs to practice his English and we need to practice Spanish, so we are a good match. He drives us to the Highlands, and we make a plan for him to take us on a larger tour the next day. He drops us off at the old volcanic crater that is now filled with the largest fresh water lake in the Galapagos, and we are on our own. We hike to the top of the crater and spy a walking trail that takes us around. The he vistas are beautiful. The volcano is covered with tiny flowers, grasses, blackberry bushes and smaller trees here and there.
We find a tunnel made from desert jungle plants, and we go exploring like Indiana Jones. The large black frigate birds that were flying with us as we sailed in the ocean were here at the lake, too. They would take a bath in the fresh water, removing the salt from their feathers. Then, they would fly high into the sky and dive downward splaying and shaking all their feathers to dry off. Just as they were about to hit ground or water again, they would reorganize all their feathers into the sleek flying machine they are and swoop smoothly back into a glide.
From there, we headed downward toward town. The plan was to stop in El Progresso, a little village that grows coffee. We wanted to see a coffee plantation, and stop to see their famous tree house. Riding swiftly downhill on our bikes, I couldn't stop thinking about my brain splayed out on the freshly paved road like spaghetti. It was distracting, as was the beautiful yellow Darwin finches, green hillsides, and wild flowers growing on the side of the road.
Indeed, these concerns were all so distracting that I lost focus for just a second, and as I looked back, the Gutter of Death was pulling me toward it. I tried to correct my steering without hitting my brakes, but the wobble of the less than true bike tires caused me to feel unstable. I applied some brakes but we were going downhill on the road and it just didn't seem to do much good. My tires just couldn't resist the Gutter of Death, and suddenly, I was riding speedily inside the Gutter of Death. "Ok, ok, Leslie. Don't give up, keep fighting!" I continued to try to ride it out, trying to guide the tires through the Gutter of Death while applying brakes. Andrew said later that I was almost successful and had slowed down quite a bit, but at some point I knew it was inevitable. I was going to fall.
As the pristine, fresh blacktop neared my face all I could think was: "keep your head up, head up, head up!" First my legs then my arms made contact with the blacktop, and heat scorched my skin as it slid. "Head up! Head up!" My body slowed to a stop and in the very last second, my head gently tapped the pavement.
"Oh my god are you ok???" Andrew cried from behind, undoubtedly thinking about the possibility of patching me up at an Ecuadorian hospital. "I'm ok, I'm ok, I'm ok!" I said, willing this to be so. I lay on the road for a few seconds, assessing my situation. Collarbone, in tact. Ribs hurt, but seem to be in tact. Arm, in tact minus skin. Concussion? No. Thank goodness. We sit beside the road for moment to get our bearings and then get underway again. "Focus, Leslie." I tell myself. "Focus."
We reach El Progresso and find the treehouse where the purveyor kindly offered his first aid kit to clean up my scrapes. We ate banana bread and drank Galapagos coffee while I cleaned my wounds with a water bottle and applied iodine. OUCH. This hurt worse than the fall. We made new friends with El Patos (ducks) and a very soft and fuzzy dog. The Treehouse was awesome. A swinging bridge gave access from the road to the "foyer" of the treehouse. Once you climbed some stairs, you were welcomed into a living space with benches, a small kitchen, and a restroom complete with a shower. On the top floor were two beds. It had a fireman's pole, a rope swing, and a belay rope. The decor was tasteful, and even included a chandelier of repurposed bottles. Down below, was a yard complete with a stone lounge chair, picnic tables, and a little cafe built of just bottles.
We rode our bikes through El Progresso and other little villages on the way back to port. Everywhere we go, people sit in their doorways visiting with passers by, pumping a soccer ball. The whole scene is set to a soundtrack of salsa music being played through a construction worker's boombox down the street. We ride by a church, cemetery, a couple small markets, and a water treatment plant. We never did find the coffee plantation, though. Maybe tomorrow.
Back in Puerto Baquerizo, we happen upon a highly competitive volleyball game in the local park. Onlookers make bets on which team will win, and after each round, exchange money per the outcome. Beer is sold from a little hut, and street food vendors weave their way through offering empanadas, maize, chorizo, and my favorite — snow cones. I order a snow cone, and it is amazing. A mix of rosewater, a little pineapple, and a little mint flavoring, topped with sweetened condensed milk. The best snow cone I have ever had.
For dinner, we head over to another open air grill/restaurant and order the fish. We receive a whole fish, with salad, a boiled potato topped with grated parmesan cheese, and a whole separate plate of white rice and lentils. You don't go hungry here.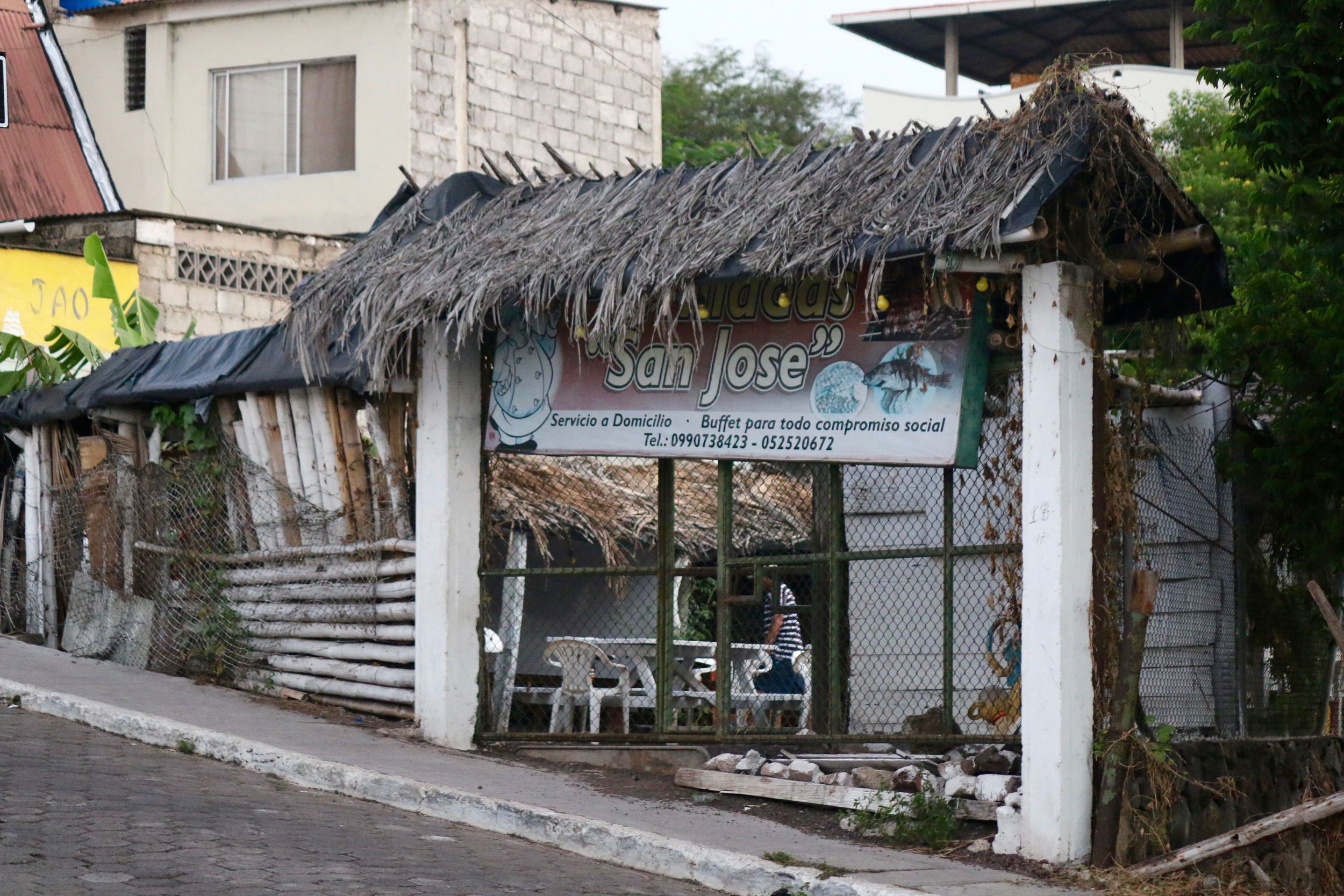 Upon return to the boat, Osmond took one look at my bandaged condition and gave a "hoot". It seems we may be overtaxing the comfort owl.