As promised, the next few posts are going to catch you up on the last Island in the Galapagos. Also, I added photos for Puddle Jump Leg 1 and 2, so check those out if you have time, too. Hopefully we will have good internet going forward! Isabela Island, Galapagos was pretty amazing, don't miss it!
April 29, 2016
On our last morning in Puerto Ayora, we head to the Immigration Office to obtain approval for our next leg to Isabela and to check out of Ecuador. The Butterfly Brigade fluttered in my stomach knowing this is the next step toward shoving off for our largest (expected 30 day) passage to French Polynesia. The dust covering my shoes feel soft, and the ground feels warm. As we up anchor and wave goodby to Puerto Ayora, I experience that feeling one feels when leaving home for a vacation: "Did I leave the coffee pot on? The garage door up?" Or: "Did we forget anything we might need two weeks in any direction from humanity?"
The motor chugged along a glassy, windless sea. The sun was out, birds were chasing each other in the sky, and sea turtles popped their noses out of the water to take a breath. As we neared Isabela, the sun drooped low in the sky. We picked our way between a large volcanic island, a pointy black rock in the middle of our path aptly named Roccaburra, and shallows made with lava rocks that are sharp and jagged like Iguana teeth. Two hundred feet of ocean suddenly becomes twenty feet; the large ocean swells fold over themselves and crash upon the shore, kicking up mist. Galapaguenos call these islands/rocks the Enchanted Islands because they appear suddenly out of the mist after it is too late for large sailing ships to avoid their jagged lava teeth. Thank you to whomever invented GPS. This is not a port you would want to approach in the dark. We bump up the RPMs a little and set our anchor in a scant thirteen feet of water right at sunset.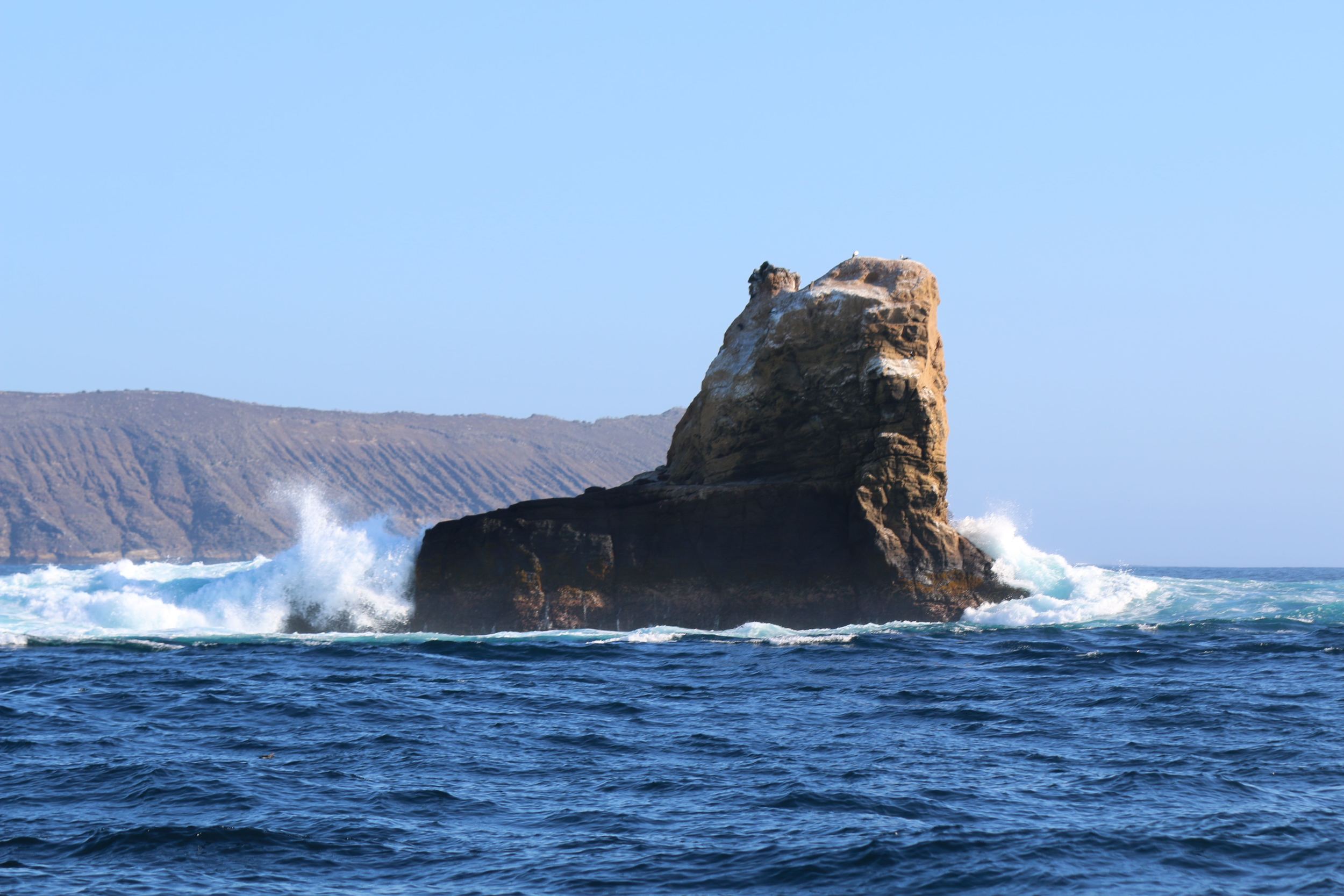 The next morning, I survey the anchorage and from a distance and see a little white head popping out over the rocks. I take a photo and zoom in as much as I can. Could it be? Is it a Blue Footed Boobie? My heart leaps as I spy from such a long distance what seem to be little blue feet. I think we may be in luck! A sea turtle, a little seal, and friendly Galapagos Sharks swim right beneath our boat. The anchorage enjoys a view of a mangrove forest, lava rock islands, a long white beach and town in the distance.
After checking in with the port captain, we head into town. There are no taxis wandering around here like there were in San Cristobal or Santa Cruz, so we poke our heads into several travel agencies to inquire about where we must explore. Upon handing over a credit card to pay for a tour, we receive two pieces of bad news: (1) very few establishments can accept credit cards; and (2) There are no ATMs on the island.
The financial system here at the Galapagos is interesting. It is almost impossible to use a credit card. The cash in circulation is all US dollars and coins, with the exception of an Ecuadorian nickel, quarter or fifty cent piece thrown in every now and then. All of those Sacajawea and John Adams Coins the US mint circulated in 2000 or so? They are all here, along with the Susan B. Anthonys. On San Cristobal and Santa Cruz Islands, most operations did not accept credit cards but it was easy to get money from an ATM. We knew Isabela had only a tiny town, but no one mentioned this particular oddity. No way for tourists to access money in a tourist driven economy? How can this be?
We thank the tour operator for his help and walk out to ponder our situation. We only have $200 total leftover from our last ATM draw in Puerto Ayora. This has to cover our water taxi rides ($2.00/person/trip), food, and also any fresh food we want to pack for the passage. It certainly isn't enough to pay for fancy tours to the volcanos!
We walk back in. "Really? No ATM?" He informs us that the "red house" and one of the hostels sometimes will give you cash back on a credit card transaction. Armed with this vague hope, we shuffle along the dirt road looking for some indication of economic society. We poke into a hostel and ask for cash back in exchange for a credit card transaction. The woman responds, "Do you have reservations?" I fight my desire to say "yes", but no. She shakes her head, "Oh, no, no, no. Cash back is only for guests with reservations." Ok, thank you for your time.
Back out on the street, we search for tour operators who accept credit cards. We search the length of the main road, but to no avail. Finally, we find a shop with a familiar feeling facade. Clean, brightly decorated, with branding evident: "Bike and Surf" spelled out in English. It also has printed on the window "We speak English, French and Spanish." This seemed promising, though I do not want a bike tour right now.
We first meet a young Ecuadorian man with beach shaggy hair and bare feet dusted with sand. He wipes down a surfboard and props it into a wrack as he tells us "she will return momentarily." Soon, the English/French speaker climbs down the stairs. She welcomes us and explains that indeed, there is no ATM on the island. We are in luck, though. She can make tour reservations for snorkeling and hiking using Paypal, and we can save the rest of our cash to pay the water taxis and buy food.
The snorkel tour was well it. We saw:
Baby Iguanas:
Baby sea lions pestering their mother:
Sharks, Sting rays and a Spotted Ray:
Enormous sea turtles as big as me:
We watched a black herron hunt a crab, while the crab stealthily avoided his demise:
We saw the world's smallest penguin species:
And, last but not least, blue footed boobies:
We even got to swim with the baby sea lions and penguins darting around us; penguins can swim/dive as fast as 35 miles per hour! None of these animals are the least bit shy or aggressive. They are magical.
After drying off, we headed to a sunset beach bar where you could order a tasty mojito and watch the sun go down with your toes buried in sand that is as soft and fine as ash. The sky was filled with strangely patterned clouds, and we were treated to a beautiful sunset.
We met some new friends who were down to their last $25.00 due to the same ATM problem. So, we all headed out together to find a good local dinner for $7.00. Fish, rice, fries, a bowl of soup and a glass of juice. We just might make it after all.